Price

RM1,627.00

Product SKU
B1-WH
Brand
Korg
Size (L x W x H)
130 cm x 50 cm x 30 cm
Availability
Out Of Stock
Description
Highlight
88-key digital piano with modern, streamlined design
NH (Natural Weighted Hammer) keyboard action feels like a real piano
Adjustable dynamic response tailors the keyboard to your playing style
MFB (Motional Feedback) technology yields a natural-sounding performance
Advanced sampling technologies create rich, vibrant instrument sounds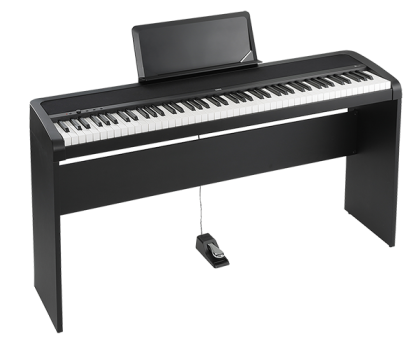 Innovative Technologies Deliver Full-Range Fidelity and Enhanced Low-End Response
To achieve the deep, rich tones of an acoustic piano within its compact body, the B1 Digital Piano relies on KORG's servo-assisted MFB technology, a pair of full-range speakers, plus a passive radiator.
Together, these elements reproduce the rich resonant tones that emanate from the large body of an acoustic piano, with particular attention paid to the low-frequency range.
*MFB (Motional Feedback) Technology: The built-in speaker system is equipped with MFB technology. This active servo system controls the movement of the cone, allowing low frequencies to be reproduced with minimal distortion. In use, the movement (velocity) of the speaker cone (vibrational surface) is detected, and a signal that compensates for the mechanical response of the speaker and speaker chamber is returned to the amp (feedback). This Motional Feedback technology allows the system to achieve ideal frequency response, and permits the low-frequency range to be reproduced accurately; any coloration of the sound caused by the speaker enclosure is immediately corrected. This well-regarded technique reinforces the low-end response—particularly with small speakers—and can also help to compensate for the room acoustics.
Reviews (0)
view all
back
What's in the box
1 X B1-WH